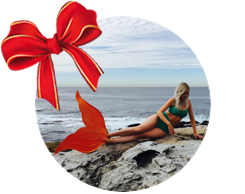 MERMAIDING BY THE SEA SCHOOL HOLIDAY @ COOGEE
This is the ultimate experience for all ocean loving kids, 7-14. We'll spend the whole day (8:30am-3pm) at the ocean, learning about the ocean. It includes mermaid yoga, learning about endangered ocean species, creating ocean bracelets, mermaiding in the beautiful ocean pool and sparkly mermaid hair & makeup.
Only 10 Mermaids per Workshop.